Size Chart

(CM)

XS
S
M
L
XL
XXL

W: height

148-153
153-158
158-163
163-168
168-173
173-178
D: bust
81-86
87-91
92-96
97-101
102-106
107-111
E: waist
59-63
64-68
69-73
74-78
79-83
84-91
F: hip
84-89
90-94
95-98
99-103
104-108
109-113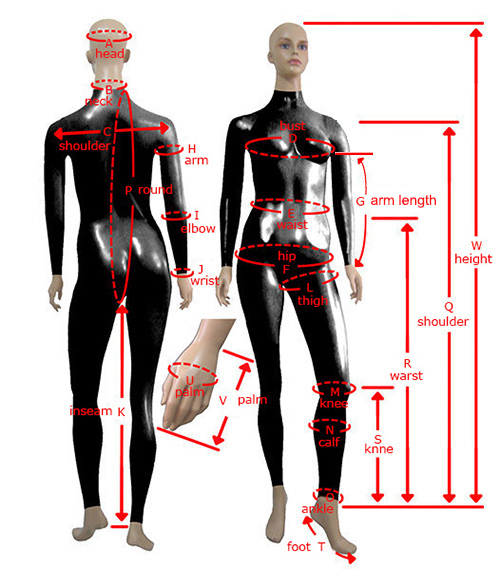 Custom Tailor
1 - We encourage you to get us your measures and we will tailor specially for you. There's only extra fee if your measure's bigger than XXL, we charge a small extra material fee, plus extra shipping.
2 - Get another person to measure for you, while you stand up at ease. Please don't measure yourself, because it won't be accurate at all.
3 - If you are not experienced with this, please find an alteration shop to do this.
Latex Care
Generally your latex clothes comes as dull. It's the latex condition without oil.
Wearing
Avoid contact with any sharp or sticky things, including your finger nails.
Spray talcum powder or dressing aid oil inside the suit, or on your skin, could help putting on clothes.
Wipe off any excess talc on the outside of the garment with a soft clean damp cloth, rinse cloth and repeat process until all the talcum powder has been removed.
Washing
Wash in warm water with a small amount of mild detergent – make sure to wash inside & out. Rinse thoroughly.
Shake away excess water & dry flat.
When garment is completely dry, dust the inside with talc.
Shining
Natural gloss of latex rubber can be enhanced by light polishing with a silicone spray.
The latex clothes as shown in our photos, are sprayed with oil for the degree of shine.
Storage
When not in use, store in a dark place or cover with a protective material such as a black plastic bag. Do not store different coloured rubber together as darker colours may stain lighter colours.
Important- Do Not!
Do not leave on or near heaters.
Do not leave in damp or moist conditions.
Do not tumble dry, iron, dry clean or bleach.
Avoid contact with oils, solvents & greases as they will destroy the rubber.
Do not leave exposed to direct sunlight or artificial light (i.e. fluorescent lighting).
Do not allow to come into contact with copper, brass or bronze as this may stain the rubber.
Cancel and Return Policy
Even standard size latex clothes are made to order for each customers. The custom nature of our latex clothes means our Cancellation and Return Policy is stricter.